My Raccoon Graphics - for your use
This page is graphic intensive - please allow time for images to fully load.
Many of my guests have asked permission to use my rehab photos and original graphics on their own sites but, unless it was something I created just for their site, or the graphics I created for linking to this site, I usually had to refuse. All my work is copyrighted and, with the exception of the graphics appearing below, may be used only for personal, non-commercial off-web use. But now I have created some special graphics just for my guests to use on their web sites.

You may freely use the graphics appearing below on your own web pages. There are just 3 conditions of use:

They may not be used on any adult-only pages or in any manner I find offensive. I will require you remove them from such pages.
You let me know when you have used them - please.
You place a credit linking to this site on any page with one of these graphics. You may use a text link or use one of the special link graphics provided below - thank you.

Raccoon Graphic from The Gable's Raccoon World

You may also use any of my Raccoon Coloring Book drawings for your personal off-web use.
---

I really had fun creating this animation - but a warning: if you look too long at the little raccoon sleeping so contently on its mama's tail, you might find yourself dozing off.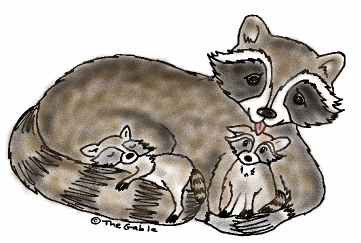 This image also available in a smaller 260x175 33K version - Smaller Animated Raccoon Family
and in non-animated 361x243 29K version - Raccoon Family




raccoon buttons



......

......

......





Head over heels in love with raccoons



......

......




......

......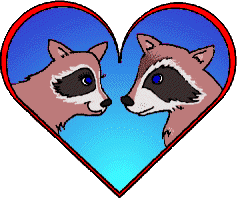 More coming soon! Please check back.




Copyright © 2009 The Gable.
All rights reserved. Except for My Raccoon Graphics as noted above,
may not be used without express permission of owner.
See Copyright notice.